Mr. Julep and I have wanted to see State of Play since we first saw the trailer a while back and boy were we surprised! This film was even better than I thought it would be! It's suspenseful and timely as well as extremely well written, directed and acted in my opinion! It's a great film!
I'm not normally a fan of Russell Crowe, but he's excellent in this film. And though I like Rachel McAdams, she's not my favorite, but she's perfect against Crowe and they work well together on screen!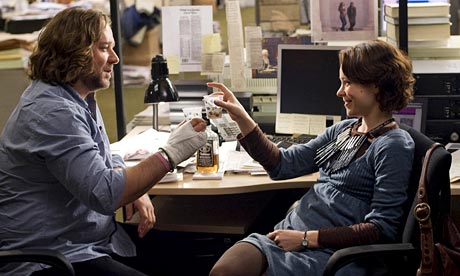 Helen Mirren is perfect as usual, but in this movie, you get to really see her ballsiness! Love it!
And after seeing this film, I can honestly say that I think Ben Affleck is turning into a force to be reckoned with! He's excellent as Senator Collins in State of Play. He's one to watch for sure as he seems to be really growing into his craft, becoming a top-notch actor in my opinion.
Robin Wright Penn has a fairly small part as the Senator's wife, but she's perfect for the role. And she's gorgeous in this movie (as usual).