I tend to enjoy light frangrances that aren't too perfumey for everyday use. I like to have products that smell like what I want to smell that day and some favorites include citrus and coconut. My new favorite scent is ALMOND!!! I am totally in love with it and I think it's a perfect scent for fall and the holiday season! My husband likes it because it reminds him of the almond cake he used to eat for Christmas dinner as a child! Here are a few of my favorite almond scented products!
BASIN
Almond Delight Soap
Burt's Bees
Almond Milk Beeswax Hand Creme (Yes, I've posted about this before, but it's my favorite!!!)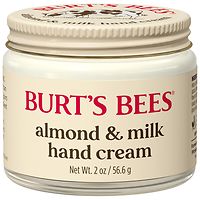 BASIN
Almond Body Butter
E. Barrett & Company
Almond Soap
Pink Julep!